Happy
Valentines
Everyone
♥♥
!
But I just had to share a really fun project I am working on, the inspiration came from a You Tube Video I came across while looking for some ideas on Easter themed creations.
Here is an recycled & upcycled 18 count egg carton cut & half & embellished in a shabby, whimsical theme, for a fun Easter project!
I found the beautiful Easter Images used in this project @
The Graphics Fairy
! (Karen has so many graphics & sweet images to choose from for any mixed media or art project!)
I purchased plastic eggs from the dollar tree & I need to embellish those, so I will work on them & show you what I came up with later. Meanwhile I am having to much fun with this & will purchase some more cartons to alter, hopefully the cardboard type which I believe would make it much nicer.
♥♥♥♥♥♥♥♥♥♥♥♥♥♥♥
If you haven't already visited
Tracie @ Dean Designs
for the Purple Valentine Blog Hop Giveaway, you should because there are some creative bloggers offering different giveaways for you!
Hurry Ends Tonite Feb 14th! And Winners Will Be Announced Tomorrow!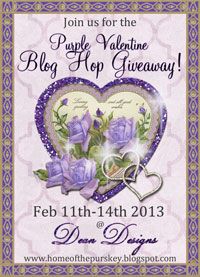 Just leave a comment under that post. Announcing winner tomorrow. Hugs,Tee